Posts for: March, 2018
By Gateway Dental Associates of Wareham
March 19, 2018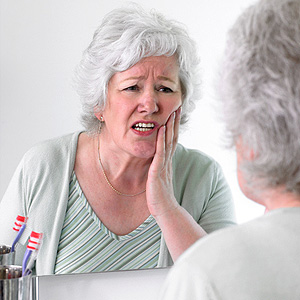 Pain has a purpose: it tells us when something's wrong with our bodies. Sometimes it's obvious, like a cut or bruise. Sometimes, though, it takes a bit of sleuthing to find out what's wrong.
That can be the case with a toothache. One possible cause is perhaps the most obvious: something's wrong with the tooth. More specifically, decay has invaded the tooth's inner pulp, which is filled with an intricate network of nerves that react to infection by emitting pain. The pain can feel dull or sharp, constant or intermittent.
But decay isn't the only cause for tooth pain: periodontal (gum) disease can trigger similar reactions. Bacteria living in dental plaque, a thin film of food particles on tooth surfaces, infect the gums. This weakens the tissues and can cause them to shrink back (recede) from the teeth and expose the roots. As a result, the teeth can become painfully sensitive to hot or cold foods or when biting down.
Finding the true pain source determines how we treat it. If decay has invaded the pulp you'll need a root canal treatment to clean out the infection and fill the resulting void with a special filling; this not only saves the tooth, it ends the pain. If the gums are infected, we'll need to aggressively remove all plaque and calculus (hardened plaque deposits) to restore the gums to health.
To further complicate matters, an infection from tooth decay could eventually affect the gums and supporting bone, just as a gum infection could enter the tooth by way of the roots. Once the infection crosses from tooth to gums (or gums to tooth), the tooth's long-term outlook grows dim.
So, if you're noticing any kind of tooth pain, or you have swollen, reddened or bleeding gums, you should call us for an appointment as soon as possible. The sooner we can diagnose the problem and begin appropriate treatment the better your chances of a good outcome — and an end to the pain.
If you would like more information on diagnosing and treating tooth pain, please contact us or schedule an appointment for a consultation. You can also learn more about this topic by reading the Dear Doctor magazine article "Confusing Tooth Pain: Combined Root Canal and Gum Problems."
By Gateway Dental Associates of Wareham
March 11, 2018
Tooth decay is a primary cause of tooth damage and loss, with annual treatment costs in the billions of dollars. It arises mainly from oral bacteria, which proliferates in the absence of effective oral hygiene. There are, however, other risk factors besides poor hygiene that could make you more susceptible to this disease.
Many people, for example, have genetically inherited deeper grooves (fissures) and depressions (pits) than the average tooth anatomy. These may be harder to reach with a toothbrush and can become havens for bacterial plaque. Others may have health conditions that indirectly affect the mouth: bulimia or anorexia, psychological conditions that involve self-induced vomiting, or GERD, gastro-esophageal reflux disease, in which stomach acid could regurgitate into the mouth. These conditions could result in a highly acidic mouth environment.
Some medical and — ironically — dental treatments could also increase your tooth decay risk. Some medications can reduce saliva flow, which inhibits acid neutralization and re-mineralization of enamel. Retainers, braces, bite guards or other dental appliances may also reduce the saliva wash over teeth, and can make brushing and flossing more difficult.
There are also risk factors that result from our lifestyle choices. Eating a lot of foods rich in sugars and other carbohydrates, for example, or acidic beverages like soda, energy or sports drinks contributes to the rise of bacteria in our mouths.
There are ways to reduce the effects of these risk factors. In addition to a daily habit of effective brushing and flossing, you should also include semi-annual cleanings and checkups at our office a part of your routine. If you have genetic, medical or dental issues that are out of your control, we can discuss solutions, such as alternatives to medications or different techniques for cleaning around dental appliances. For lifestyle-related factors, you should consider removing the habit or modifying it: for example, snacking at specific times or drinking acidic beverages only at mealtime.
While tooth decay is a serious, destructive disease, it is highly preventable. Addressing all your risk factors, not just hygiene, will reduce your chances of having it.
If you would like more information on tooth decay prevention, please contact us or schedule an appointment for a consultation. You can also learn more about this topic by reading the Dear Doctor magazine article "Tooth Decay: How to Assess Your Risk."